ant-mppinvicogen Plasmocin™ prophylactic支原体预防试剂的详细资料:
Plasmocin™
Mycoplasma Removal Agent
Plasmocin™ is used to cure cell lines infected by mycoplasma and related cell wall-less bacteria.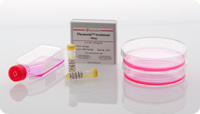 Plasmocin™ can also be used as a routine addition in liquid media to prevent mycoplasma and more generally bacterial contamination in small and large animal cell cultures.
More info on Mycoplasma eradication
Plasmocin™ is a well-established antimycoplasma reagent. It contains two bactericidal components strongly active against mycoplasmas that allow their elimination in only 2 weeks.
The first component acts on the protein synthesis machinery while the second acts on the DNA replication. These two specific and separate targets are found only in mycoplasmas and many other bacteria and are compley absent in eukaryotic cells.
Warning: InvivoGen's anti-mycoplasma products are suitable for research purposes only, and not for human or animal care.
Specifications
Docs
Contents
Description
Details
Citations
ORDERING
Plasmocin™ prophylactic
| | |
| --- | --- |
| Description | Removal agent to prevent mycoplasma contamination |
| Cat. Code | ant-mpp |
| Unit Size | 25 mg (10 x 1 ml) |
| Price | Please contact our distributor |
Plasmocin™ treatment
| | |
| --- | --- |
| Description | Removal agent to eliminate mycoplasmas |
| Cat. Code | ant-mpt |
| Unit Size | 50 mg (2 x 1 ml) |
| Price | Please contact our distributor |
YOU MAY ALSO NEED
| | |
| --- | --- |
| PlasmoTest™ | Detection of mycoplasma contamination in cell culture kit |
| Normocin™ | Antimicrobial agent for prevention against Mycoplasma, Bacteria and Fungi |
| Fungin™ | Antimicrobial agent for prevention and elimination of Fungi |
| G418 | Selection antibiotic for the neo gene |
| Puromycin | Selection antibiotic for the pac gene |
上海力敏实业有限公司代理产品,咨询
上海力敏实业有限公司代理产品,咨询
 如果你对ant-mppinvicogen Plasmocin™ prophylactic支原体预防试剂感兴趣,想了解更详细的产品信息,填写下表直接与厂家联系:
上一篇:
ant-mptInvivogen Plasmocin™ treatment支原体清除试剂
下一篇:
AF-100-16APeprotech Recombinant Human TGF-α人的TGF-α细胞生长因子